Does this look familiar?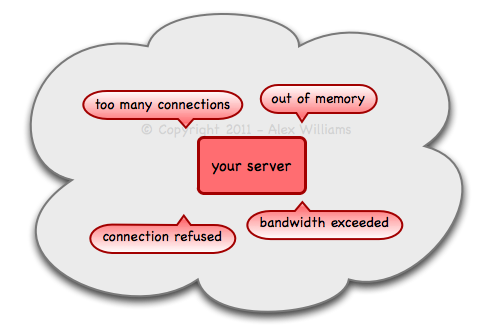 If yes, then you're at the right place.
We will show you how to:
Accept more connections
Avoid putting all your eggs in one basket
Get faster page-loads
Increase web and database performance
Decrease your server memory usage
Split your server load across multiple machines
Decrease your bandwidth usage
Increase your throughput
Plan for failures and disasters
… and much more
Scalability (n.): The potential for your website to continue to function effectively as its size and popularity increases.
We will provide configuration examples for:
MySQL
HAProxy
Keepalived
Nginx
Memcached
IPTables
Munin
Failover (n.): The capability to automatically switch to a redundant or standby server during failure of one or more a components.
Download Web Scaling vol. 1 – FREE! We will show you techniques for:

Load-balancing
Failover
Replication
Caching
NAT and Direct Routing
Reverse Proxying
Server and Network Profiling
Monitoring
IPv6
… and much more

What's included:

DRM-free PDF document, accessible on almost any device, which you can print for your own personal use
6 x Network architecture designs
Tuned configuration files for popular Open Source Software
PHP source code samples
BASH command-line examples for automation
Tips and tricks for scalable architectures
Extensive explanations on how to build and scale your architecture
Failure scenarios, and how they are handled
30-day satisfaction guarantee

Expert (n.): A person who has a comprehensive and authoritative knowledge of or skill in a particular area.

Scaling Experts:
The "Web Scaling vol. 1" eBook is the first of a 3-part series (which will likely never get written) covering various network architectures and designs.
This volume covers small architectures ranging from 2 to 4 servers
It's for the person who's just getting started in the world of scalability
If you need some quick, simple and effective solutions for your growing website
Not for scaling to the size of Twitter or Facebook